CANbridge Pharmaceuticals and WuXi Biologics Expand Rare Disease Therapeutics Partnership
2019/01/08
BEIJING, SHANGHAI, January 8, 2019—CANbridge Pharmaceuticals Inc., a biopharmaceutical company developing innovative drug candidates to treat underserved medical conditions in China and other markets, and WuXi Biologics (2269. HK), a leading global open-access biologics technology platform company offering end-to-end solutions for biologics discovery, development and manufacturing, jointly announced an expansion of their rare disease partnership to enable CANbridge to discover, develop and commercialize four additional drug candidates. These new candidates target rare genetic chronic diseases. According to the agreement, CANbridge has exclusive regional or global rights for these treatments. WuXi Biologics will receive upfront, milestone payments and royalties. WuXi Biologics will also be the exclusive clinical supplier and primary commercial supplier for all of these programs.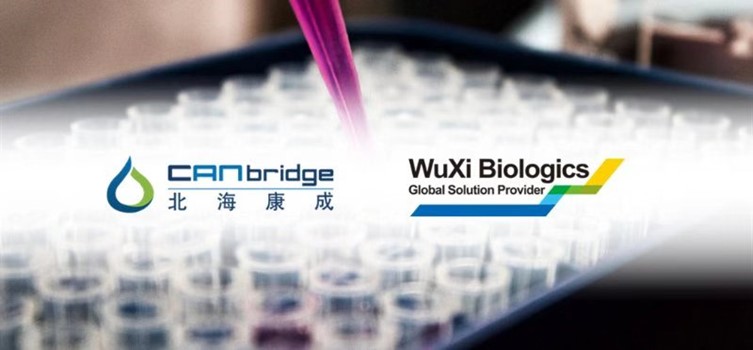 "With this expansion of our partnership with WuXi Biologics, CANbridge continues to broaden our presence in rare disease, with a goal of bringing to the market treatments that are developed in China," said James Xue, PhD, Founder, Chairman and CEO, CANbridge Pharmaceuticals Inc. "These four new drug candidates target important rare disease indications for which there are either no available treatments in China, or treatments with poor outcomes. These candidates are next-generation therapies directed at medically-validated biological targets. Together with WuXi Biologics, we aim to change the rare disease landscape in China, with the submission of the first rare disease IND in China for our lead candidate later this year, and the development of new drug candidates that will bring much-needed treatments to patients with no, or few, options. In addition, we plan to impact the global market with these drug candidates which are developed in China."
"We are excited to enable CANbridge to become a leader in rare diseases and to collaborate with them to bring more much-needed treatments to Chinese patients," said Dr. Chris Chen, CEO of WuXi Biologics. "This expanding partnership further validates our world-class technology platforms and capabilities. Improving the availability of biologics for rare disease aligns with our mission of accelerating and transforming how biologics are developed and manufactured worldwide."
About WuXi Biologics
WuXi Biologics (stock code: 2269.HK), a Hong Kong-listed company, is the only open-access biologics technology platform in the world offering end-to-end solutions to empower organizations to discover, develop and manufacture biologics from concept to commercial manufacturing. Our company history and achievements demonstrate our commitment to providing a truly ONE-stop service offering and value proposition to our global clients. As of June 30, 2018, there were a total of 187 integrated projects, including 98 projects in pre-clinical development stage, 78 projects in early-phase (phase I and II) clinical development, 10 projects in late-phase (phase III) development and 1 project in commercial manufacturing. With total estimated capacity of biopharmaceutical production planned in China, Ireland, Singapore and US reaching 220,000 liters by 2021, we will provide our biomanufacturing partners with a robust and premier-quality global supply chain network.For more information on WuXi Biologics, please visit www.wuxibiologics.com.
About CANbridge Pharmaceuticals Inc. 
CANbridge Pharmaceutical s Inc. is a China-based bio-pharmaceutical company accelerating development and commercialization of specialty healthcare products for orphan diseases and targeted cancers, focusing on products that are unavailable or address medical needs that are underserved in the region. 
CANbridge has been widely recognized as a leader in orphan diseases in China. It has a global partnership with WuXi Biologics to develop and commercialize proprietary therapeutics for the treatment of rare genetic diseases. In addition, it has an exclusive licensing agreement to commercialize Hunterase™, an enzyme replacement therapy for the treatment of Hunter syndrome, developed by GC Pharma and marketed in more than ten countries worldwide. CANbridge also has an oncology portfolio, which includes exclusive rights to develop and commercialize Puma Biotechnology's NERLYNX® (neratinib), approved in the US, and rights to other novel candidates and an agreement with EUSA Pharma to commercialize Caphosol® for the prevention and treatment of oral mucositis caused by cancer treatments, for which it has received approval in China.
For more on CANbridge Pharmaceuticals Inc., please go to www.canbridgepharma.com. 
Contact:
CANbridge Pharmaceutical Inc. 
James Xue                                                                    
CEO 
+8610.8414.8018
781.995.0074
Media:
Deanne Eagle
Planet Communications
deanne@planetcommunications.nyc 
917.837.5866
WuXi Biologics:
Jia Li
Corporate Communications