Policy News | "Second List of Rare Diseases" Published: A Pivotal Milestone in China's Healthcare with 86 Rare Diseases Listed
2023/09/21
Beijing, China; Cambridge, Mass., September 21, 2023 — CANbridge Pharmaceuticals Inc. (HKEX:1228), a global biopharmaceutical company, with a foundation in China, committed to the research, development and commercialization of transformative rare disease and rare oncology therapies, is pleased to share news of the publication of China's "Second List of Rare Diseases." This significant development stands a pivotal moment in China's healthcare landscape and holds substantial importance for the sector at large.
In significant development, the National Health Commission, jointly with the Ministry of Science and Technology, the Ministry of Industry and Information Technology, the National Medical Products Administration, the National Administration of Traditional Chinese Medicine and the Logistic Support Department of the Central Military Commission, has unveiled the "Second List of Rare Diseases" on September 18, 2023, after the National Health Commission had launched the selection of rare diseases to be included in the second list in February 2022. This follows the release of China's First List of Rare Diseases in May 2018, signifying a pioneering step in addressing rare diseases within the nation.
The First List of Rare Diseases, comprising 121 rare diseases, was a historic milestone as it marked the initial attempt by the Chinese government to define and catalog rare diseases. The list served as a crucial reference point for formulating policies related to rare diseases, impacting approximately 3 million patients across China, an estimation based on the published epidemiological data.
The newly released Second List of Rare Diseases now features 86 rare diseases spanning 17 disciplines, including Hematology, Dermatology, Rheumatology and Immunology, Pediatrics, Neurology, and Endocrinology among others. Notable inclusions are Alagille syndrome (ALGS), congenital biliary atresia (BA), and glioblastoma (GBM). With this addition, China's rare disease catalog now comprises a total of 207 rare diseases across both lists.
Rare diseases, characterized by their extraordinarily low incidence and prevalence rates, collectively affect an estimated 250 million to 300 million patients worldwide, with approximately 30 million affected individuals in China. At present, there are 7,000 known rare diseases in the world. Alarmingly, 95% of these rare diseases lack effective treatment options, with 80% classified as congenital genetic diseases. Half of rare disease patients are children, and 30% tragically succumb to these conditions before reaching the age of 5.
Globally, the definition of rare diseases varies. The World Health Organization classifies rare diseases as diseases as those affecting 0.65‰ to 1‰ of the total population, while the United States considers diseases rare if they affect fewer than 200,000 patients in nationwide or if the expected therapeutic drug sales in the country are insufficient to cover R&D costs. The European Union, meanwhile defines diseases as rare if they have an incidence rate of less than 0.5‰ in the region. China, on the other hand, adopts a list-based approach to identify rare diseases, underscoring the momentous importance of the Second List of Rare Diseases.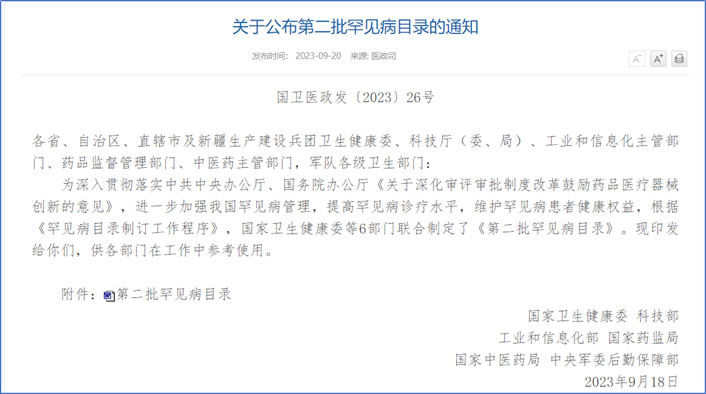 Second List of Rare Diseases
No.

Disease name (in Chinese)

Disease name (in English)

1

软骨发育不全

Achondroplasia

2

获得性血友病

Acquired hemophilia

3

肢端肥大症

Acromegaly

4

成人斯蒂尔病

Adult-onset Still disease

5

Alagille综合征

Alagille syndrome

6

α-1-抗胰蛋白酶缺乏症

Alpha-1-antitrypsin deficiency

7

ANCA相关性血管炎

ANCA-associated vasculitis

8

Bardet-Biedl 综合征

Bardet-Biedl syndrome

9

白塞病/贝赫切特综合征

Behçet's disease

10

蓝色橡皮疱样痣

Blue rubber bleb nevus

11

CDKL5缺乏症

CDKL5-deficiency disorder

12

无脉络膜症

Choroideremia

13

慢性炎性脱髓鞘性多发性神经根神经病

Chronic inflammatory demyelinating polyneuropathy

14

肾透明细胞肉瘤

Clear cell sarcoma of kidney

15

冷凝集素病

Cold agglutinin disease

16

先天性胆道闭锁

Congenital biliary atresia

17

先天性凝血因子VII缺乏症

Congenital factor VII deficiency

18

冷吡啉(冷炎素)相关周期性综合征/

NLRP3相关自身炎症性疾病

Cryopyrin associated periodic syndrome/ NLRP3-associated systemic autoinflammatory disease

19

皮肤神经内分泌癌(梅克尔细胞癌)

Cutaneous neuroendocrine carcinoma(Merkel cell carcinoma)

20

皮肤T细胞淋巴瘤

Cutaneous T-cell lymphomas

21

胱氨酸贮积症

Cystinosis

22

隆突性皮肤纤维肉瘤

Dermatofibrosarcoma protuberans

23

嗜酸性粒细胞性胃肠炎

Eosinophilic gastroenteritis

24

上皮样肉瘤

Epithelioid sarcoma

25

面肩肱型肌营养不良症

Facioscapulohumeral muscular dystrophy

26

家族性噬血细胞淋巴组织细胞增生症

Familial hemophagocytic lymphohistiocytosis

27

家族性腺瘤性息肉病

Familial adenomatous polyposis

28

进行性骨化性纤维发育不良

Fibrodysplasia ossificans progressiva

29

脆性X综合征

Fragile X syndrome

30

神经节苷脂贮积症

Gangliosidosis

31

胃肠胰神经内分泌肿瘤

Gastroenteropancreatic neuroendocrine neoplasm

32

胃肠间质瘤

Gastrointestinal stromal tumor

33

泛发性脓疱型银屑病

Generalized pustular psoriasis

34

遗传性甲状旁腺功能减退症

Genetic hypoparathyroidism

35

巨细胞动脉炎

Giant cell arteritis

36

骨巨细胞瘤

Giant cell tumor of bone

37

血小板无力症

Glanzmann thrombasthenia

38

胶质母细胞瘤

Glioblastoma

39

高林综合征

Gorlin syndrome

40

化脓性汗腺炎

Hidradenitis suppurativa

41

早老症

Hutchinson-Gilford progeria syndrome

42

炎性肌纤维母细胞瘤

Inflammatory myofibroblastic tumor

43

Leber先天性黑矇

Leber congenital amaurosis

44

Lennox-Gastaut 综合征

Lennox-Gastaut syndrome

45

角膜缘干细胞缺乏症

Limbal stem cell deficiency

46

恶性高热

Malignant hyperthermia

47

恶性胸膜间皮瘤

Malignant pleural mesothelioma

48

黑色素瘤

Melanoma

49

异染性脑白质营养不良

Metachromatic leukodystrophy

50

单基因非综合征性肥胖

Monogenic non-syndromic obesity

51

多发性内分泌腺瘤病

Multiple endocrine neoplasia

52

发作性睡病

Narcolepsy

53

神经母细胞瘤

Neuroblastoma

54

神经纤维瘤病

Neurofibromatosis

55

神经元蜡样脂褐质沉积症

Neuronal ceroid lipofuscinosis

56

神经营养性角膜炎

Neurotrophic keratitis

57

骨肉瘤

Osteosarcoma

58

天疱疮

Pemphigus

59

新生儿持续肺动脉高压

Persistent pulmonary hypertension of the newborn

60

嗜铬细胞瘤

Pheochromocytoma

61

PIK3CA相关过度生长综合征

PIK3CA related overgrowth syndrome

62

真性红细胞增多症

Polycythaemia vera

63

原发性胆汁性胆管炎

Primary biliary cholangitis

64

原发性生长激素缺乏症

Primary ciliary dyskinesia

65

原发性胰岛素样生长因子-1缺乏症

Primary IGF1 deficiency

66

原发性免疫缺陷

Primary immunodeficiency

67

原发性骨髓纤维化

Primary myelofibrosis

68

原发性硬化性胆管炎

Primary sclerosing cholangitis

69

进行性纤维化性间质性肺疾病

Progressive fibrosing interstitial lung disease

70

复发性心包炎

Recurrent pericarditis

71

早产儿视网膜病

Retinopathy of prematurity

72

Rett综合征

Rett syndrome

73

短肠综合征

Short bowel syndrome

74

全身型幼年特发性关节炎

Systemic juvenile idiopathic arthritis

75

系统性肥大细胞增多症

Systemic mastocytosis

76

大动脉炎/多发性大动脉炎

Takayasu arteritis

77

腱鞘巨细胞瘤/色素沉着绒毛结节性滑膜炎

Tenosynovial giant cell tumor/Pigmented villonodular synovitis

78

地中海贫血(重型)

Thalassemia major

79

血栓性血小板减少性紫癜

Thrombotic thrombocytopenic purpura

80

转甲状腺素蛋白淀粉样变性

Transthyretin amyloidosis

81

肿瘤坏死因子受体相关周期性综合征

Tumor necrosis factor receptor associated periodic syndrome

82

肿瘤相关骨软化症

Tumor-induced osteomalacia

83

Von Hippel-Lindau综合征

Von Hippel-Lindau syndrome

84

血管性血友病Ⅲ型

Von Willebrand disease type3

85

华氏巨球蛋白血症/淋巴浆细胞淋巴瘤

Waldenström macroglobulinemia/ Lymphoplasmacytic lymphoma

86

West综合征/婴儿痉挛综合征

West syndrome/Infantile spasms syndrome
About CANbridge Pharmaceuticals Inc.
CANbridge Pharmaceuticals Inc. (HKEX:1228) is a global biopharmaceutical company, with a foundation in China, committed to the research, development and commercialization of transformative therapies for rare disease and rare oncology. CANbridge has a differentiated drug portfolio, with 4 approved drugs and a pipeline of 10 assets, targeting prevalent rare disease and rare oncology indications that have unmet needs and significant market potential. These include Hunter syndrome and other lysosomal storage disorders, complement-mediated disorders, hemophilia A, metabolic disorders, rare cholestatic liver diseases and neuromuscular diseases, as well as glioblastoma multiforme. The CANbridge Next-Generation Innovation and Process Development Facility is developing novel, potentially curative, gene therapies for rare genetic diseases, including Pompe disease, Fabry disease, spinal muscular atrophy (SMA) and other neuromuscular conditions, and collaborates with world-leading researchers and biotech companies. Animal data from the SMA gene therapy was presented in 2022 at the American Society for Gene and Cell Therapy (ASGCT), the European Society for Gene and Cell Therapy (ESGCT) and the World Muscle Congress. CANbridge global partners include: Apogenix, GC Pharma, Mirum, Wuxi Biologics, Privus, UMass Chan Medical School, the University of Washington School of Medicine and Scriptr Global.
For more on CANbridge Pharmaceuticals Inc., please go to: www.canbridgepharma.com.
Forward-Looking Statements
The forward-looking statements made in this article relate only to the events or information as of the date on which the statements are made in this article. Except as required by law, we undertake no obligation to update or revise publicly any forward-looking statements, whether as a result of new information, future events or otherwise, after the data on which the statements are made or to reflect the occurrence of unanticipated events. You should read this article completely and with the understanding that our actual future results or performance may be materially different from what we expect. In this article, statements of, or references to, our intentions or those of any of our Directors or our Company are made as of the date of this article. Any of these intentions may alter in light of future development.
Contact:
U.S. Investor Relations:
Chris Brinzey
ICR Westwicke
China Investor Relations
CANbridge Pharmaceuticals Inc.
Media:
Mandy Go / Brigid Lee / Carmen Lai
Strategic Financial Relations Limited
SPRG_CANbridge@sprg.com.hk