CANbridge Named to South Reviews "2022 Annual List of Chinese Social Values"
2023/02/24
Beijing, China and Burlington, Massachusetts, USA | February 20, 2023 | CANbridge Pharmaceutical Co., Ltd. (1228.HK) a global biopharmaceutical company leading in China, focusing on rare diseases, and dedicated to the research, development and commercialization of innovative therapies, announced that it has named to the "2022 Annual List of Chinese Social Values" by South Reviews.
The "2022 Annual List of Chinese Social Values" released by South Reviews, China's well-known political and economic news magazine and described as "a window to observe China," recognizes enterprises that advance development in their industry, demonstrate social commitment and set a good example to others. The honor recognizes CANbridge's contribution to society through the development of treatments for rare disease. The other honorees are, BYD, New Oriental, Gree Electric, Anta Group, JD.COM Group, Yadea, CIMC, Yuhu Cold Chain, Alibaba and Tencent.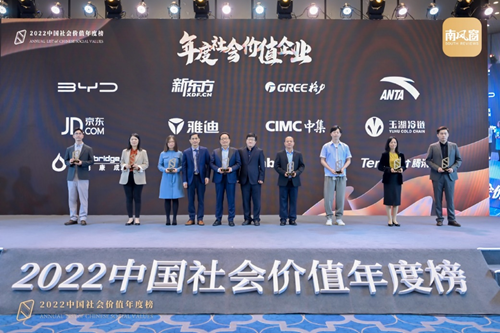 As a media organization long focused on political and economic news, South Reviews reports on industry development trends and the national economy of China. Since 2003, South Reviews has published the annual list of the outstanding market participants that serve the public interest. In additional to the criteria of demonstrating social responsibility and value, the 2022 recipients were also chosen for setting an example of social leadership for others to follow.
"We are honored to be included in South Review's 2022 Annual List of Chinese Social Values, which recognizes the social value of the work we do in developing medical treatments for patients with rare genetic diseases," said James Xue, PhD, CANbridge founder, chairman and CEO. "Our mission is to help them with life-changing medicine which could bring new treatments to rare disease patients in China and the rest of the world."
As leader in the development of rare disease treatments in China and globally, CANbridge has a mission is to provide new therapies for patients with rare diseases through innovation and to remain patient-centered," Dr Xue continued." The 10 years since I founded the company coincide with 10 years of rapid development rare disease treatment in China, building the program from scratch to thriving. The government has introduced a series of favorable policies for rare diseases, and there are increasing calls for treatment, from society at large, These patients have become visible. The creation and development of the rare disease ecosystem in China also reflects CANbridge colleagues' efforts. I hope our practice and example will pool more social resources, peers and ambitious people into the treatment of rare diseases and bring affordable innovative therapies to more patients with rare diseases."
So far, CANbridge has built a rich product pipeline. Among the 10  of orphan drugs in our pipeline, 7 are globally researched and developed with China as the center, and all of them have great market potential — which will bring the real hope of drug accessibility to rare disease patients in China! CANbridge's most important fundamentals will be growing in the next 2-3 years in addition to already intensively implemented 4 clinical trials for 6 indications. In the future, CANbridge will have 4 or 5 drugs marketed in China for targeted treatment of 8 to 10 indications. These drugs can not only fill the clinical gaps, but also meet patients' long-term demand for affordable medicines. In addition, CANbridge has established proprietary comprehensive operation capabilities on the most advanced gene capsid platform, with 3 or 4 world-leading products to be clinically used soon. Though starting from zero, we have accomplished something in just 2 years in the gene therapy, which is very cutting-edge and also represents a new trend.
This reflects CANbridge's vision and persistence to bring new rare disease treatments to patients in China and globally, a commitment that may not only help patients, but also change the landscape of rare disease treatment.
Brief introduction to CANbridge Pharmaceutical Co., Ltd.
CANbridge Pharmaceutical Co., Ltd. (1228.HK) is a global biopharmaceutical company leading in China, focusing on rare diseases, and dedicated to the research, development and commercialization of innovative therapies. The Company currently has 13 drugs with considerable market potential, including 3 approved and marketed products and 10 drugs under research. These products are aimed at some common rare diseases and rare tumor indications, such as Hunter syndrome and other lysosomal storage diseases, complement-mediated diseases, hemophilia A, metabolic disorders, rare cholestatic liver diseases, neuromuscular diseases and glioblastoma.
The CANbridge New-Generation Gene Technology R&D Center is developing new and potentially curative gene therapies for rare genetic diseases, including Pompe disease, Fabry disease, spinal muscular atrophy (SMA) and other neuromuscular diseases, and cooperating with world-leading researchers and biotechnology companies. Animal data from a second-generation SMA gene therapy was presented in 2022 at the American Society for Gene and Cell Therapy (ASGCT), the European Society for Gene and Cell Therapy (ESGCT) and the World Muscle Society.
The Company's global partners include but are not limited to Apogenix, GC Pharma, Mirum, WuXi Biologics, Privus, UMass Chan Medical School, Washington University School of Medicine and Scriptr Global.
For more information about CANbridge Pharmaceutical Co., Ltd., please visit: www.canbridgepharma.com.
Forward-looking statements
The forward-looking statements made in this article are only related to the events or information on the date of these statements. Unless required by law, we are not obliged to publicly update or modify any forward-looking statements, whether for new information, future events or other reasons, to reflect the occurrence of unexpected events after the statements. You should read this article completely and understand that our actual results or performance in the future may be significantly different from our expectations. In this article, we or any of our directors or our Company's intentions are stated or quoted on the date of publication of this article. Any of these intentions may change with the development in the future.
Contact information:
Investor Relations:
ir@canbridgepharma.com
P&G Media:
Wu Yanxia, Li Yiqing, Li Leyi
Strategic Public Relations Group
SPRG_CANbridge@sprg.com.hk